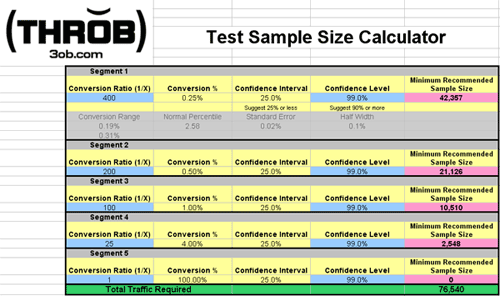 One of the basic building blocks of
optimization
is split testing.
While the metatheory is the same regardless of what you are testing, this is an example of applied marketing theory. This tool is focused (labeled) on conversions (sales) as the datapoints, but you could just as easily use it for any other kind of success (such as opt-ins, free downloads, registrations etc).
Whether you call it AB split testing (or even A B C D E testing), using split testing software, conversion optimization, landing page optimization or any other name you still want to act on your tests as soon as possible.
The split test sample size calculator will show you how much traffic you need to send to each test segment, based on how confident you want to be in the results.
This part of the materials from the Metric & Analytical Marketing workshop at Internext-Expo. While the workshop was focused on adult website marketing, the tools & theory should be useful in almost any vertical.